Doing a warm-up
Selecting a warm-up
To select a warm-up select Do a Warm-up Exercise from the project menu. The following window will then be displayed: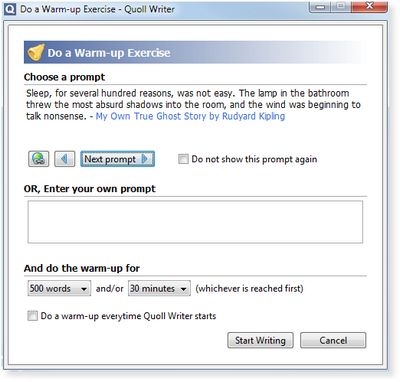 You can choose to ignore the displayed prompt by using the Do not show this prompt again checkbox. The settings for duration and word count will be saved for future warm-ups.
Note: If you have not created a warm-up before then a Warm-ups project will be created to hold all of the warm-ups you do. Once created the following window will be displayed: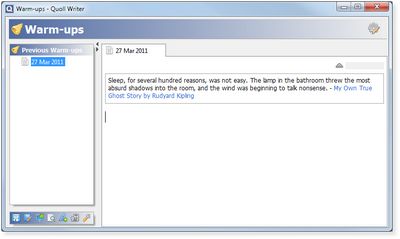 The warm-up edit panel is very similar to the standard chapter edit panel. The main differences being:
The prompt is displayed at the top of the text. It can be hidden by using the up arrow to the top right of the text.
A progress bar is displayed showing how long is left before the target number of words is reached or the time limit expires.
A list of the previous warm-ups is displayed on the left. Like chapters each warm-up can be edited.
Restarting the timer/word count
Once the time limit/word count has expired the progress bar will be red. The timer/word count can be restarted by using the play icon that will be displayed next to the progress bar. An example is shown below: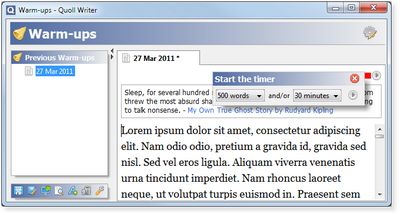 ↑ Back to top