Problem Finder
The Problem Finder allows you to find potential issues with your text, for example complex sentences, passive voice usage and terms or words you would prefer to avoid using (but tend to anyway).

To access the Problem Finder click on the icon in the Chapter toolbar and select Find Problems or use the keyboard shortcut Ctrl+Shift+P. The Problem Finder panel will then be displayed at the bottom of the Chapter, an example is shown below.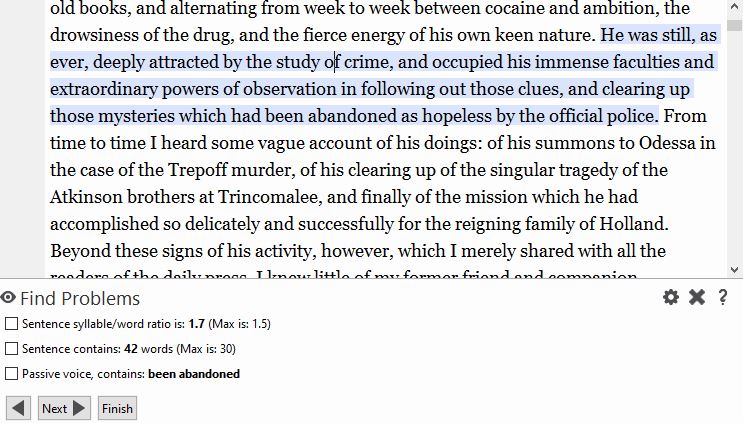 Each sentence and paragraph in the Chapter is checked against the configured Problem Finder rules, each problem found will be listed with a description of the problem and a checkbox. Checking the box allows you to ignore that specific problem, right clicking on the problem and selecting Ignore this type of problem allows you to ignore all problems of that type.

When a problem has been ignored a message will be displayed.

Moving your mouse over the listed problem will highlight the problem text in the Chapter. To keep finding problems use the Next button.
Configuring the rules
To configure rules the Problem Finder uses use the button in the Problem Finder panel or click on Problem Finder Rules in the Manage Items & Rules section of the Options panel. The rules configuration popup will then be displayed as shown below:
The buttons to the right of each rule allow you to:
Find all problems of that type.
Edit the rule, each rule has its own configuration items.
Show more information about the rule, some of the rules have web links that provide further information about the rule.
Delete the rule.
When deleting a rule you can either remove the rule from all Projects or just the current Project.
Word/Phrase Rules
You can add a new Word/Phrase rule by clicking on the icon in the Words/Phrases tab. The panel below will then be displayed:
You can specify:
The word or phrase to look for.
Where it should appear in the sentence.
Whether it should be ignored in dialogue or only looked for in dialogue.
A description of the rule.
Sentence/Paragraph Structure Rules
Sentence and Paragraph structure rules, accessed via the Sentence Structure and Paragraph Structure tabs can only be edited or deleted. Each rule has its own configuration options.
↑ Back to top