Deleting a Chapter
Warning
When a chapter is deleted it cannot be retreived. This warning is not be taken lightly, once the chapter is gone then it is gone so please be sure before deleting.
There are a number of ways to delete a chapter:
Right click on a chapter in the chapters list and select Delete Chapter.
Whilst viewing the chapter information, select the in the top right hand corner of the tab.
Clicking on the

icon in the chapter toolbar (visible when the chapter is selected).
You will then see the following: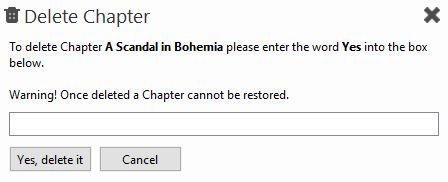 You must then enter the word Yes and press OK to complete the deletion.
↑ Back to top