Spellchecking
Quoll Writer uses an inline spellcheck. That is, once activated, words not in it's dictionary will be highlighted with a red line under the word. To activate the spellcheck use the icon on the chapter toolbar. The icon will then change to click on it to deactivate the spellcheck. Note: the spellcheck setting applies across all chapters.

Any word not found in the dictionary will be underlined in red in the text as shown below:

To see a list of word suggestions right click on the word, the following menu will then be displayed: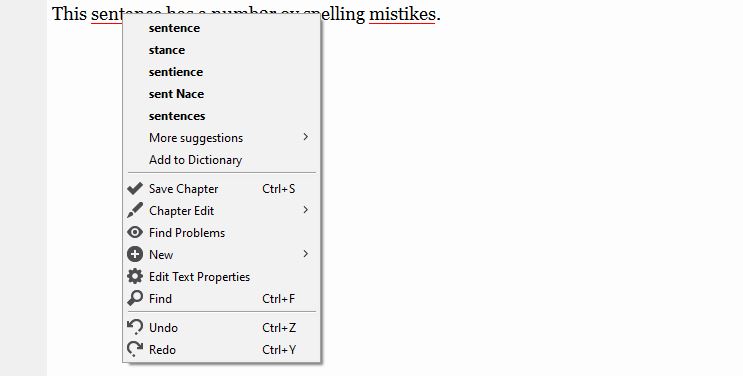 To change the word for one of the suggestions just click on it. To add the word to the dictionary click Add to Dictionary.
Asset Names
Asset names, such as characters, locations etc are automatically added to the dictionary.
Selecting the dictionary language
US English is the default flavor of English used by Quoll Writer. This can be changed by opening the Project Options then clicking on the Chapter tab, the following will be displayed:

Use the drop down list in the Spellchecker section to select the desired flavor of English.
↑ Back to top